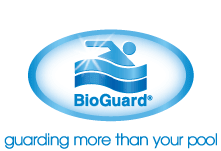 POOL CHEMICALS
SAVE 15% ON A SEASON SUPPLY
The BioGuard® 3-STEP PROGRAM is an effective and convenient way of ensuring that your pool water is healthy, sparkling and algae-free for the season.
STEP 1- SILK STICKS or SILK SMART STICKS, to kill bacteria 24 hours a day.
STEP 2- BURNOUT EXTREME or SMART SHOCK, to restore & maintain the water's sparkle.
STEP 3- BACKUP or ALGAE ALL 60, to prevent algae.
After many years of use and analysis, we can closely predict the amount of each chemical your pool will routinely require for the pool season you desire. We offer this season supply at 15% off normal retail prices. We deliver the chemicals at no charge, and give you instructions on how to use them correctly.
** Discount applies only to BioGuard® 3-STEP PROducts.**
You get a lot more than just "CHEMICALS" when you buy from Poolservice Company.
You get convenience, quality, service and experience.
FREE DELIVERY to your front door via our own fleet of trucks.

Pay by VIRTUAL CHECK, MASTERCARD or VISA or just charge it to your existing Poolservice account.

GET EVERYTHING

you need at once; the quantities we suggest are based on our experience in serving over 600 pools weekly in the D.C. area. If you run out of any

BIOGUARD 3-ST

EP PROGRAM

chemicals

during the swimming season we deliver more at the

same discount

as the original order.

We don't forget you after the sale either. If you have any questions just give us a call and talk to our trained

BioGuard®

pool specialists.

Bring a water sample in for a FREE Computerized Water Analysis anytime during the season.
CALL NOW FOR YOUR SEASON'S SUPPLY PROPOSAL